Accessible Bath Solutions Bathroom Remodel Services Help Elderly and Disabled Northeast Wisconsin Residents Stay Safe in Their Homes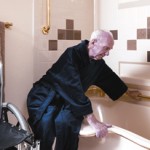 Appleton, WI – Accessible Bath Solutions LLC was founded in 2010 after a family friend was severely injured in a snowmobile accident. After the accident left the man paralyzed from the chest down, he realized his home could not accommodate his recent limitations. With the help of family and friends, along with Accessible Bath Solutions LLC owner, Ben Ritchie, the man's home was adapted and modified to fit his needs so he could continue to live in his home. After undergoing the rewarding experience of helping a friend in need, Ben Ritchie founded Accessible Bath Solutions LLC, a certified Aging-in-Place Specialist (CAPS), in an effort to help other disabled and elderly individuals stay safe in their homes.
Bathroom Remodel Solutions
With a background in the building trade, Ben Ritchie's years of experience allowed his business to specialize in accessible bathroom remodeling such as walk-in bathtubs, accessible showers, tub cuts, roll under countertops and widened doorways to help an individual get around more freely.  Other home updates can include modifying the height of toilets and counters, grab bars, transfer benches and wheelchair ramps. Accessible Bath Solutions LLC also offers a variety of different walk-in tubs to meet individual needs. For someone confined to a wheelchair, home accessibility modifications such as those offered by Accessible Bath Solutions LLC, are a necessity.
"Our Certified Aging in Place Specialists understand what it takes to design and implement attractive, barrier-free living environments through the various bathroom remodel options we offer. The changes they make allow seniors and handicapped individuals to live comfortably and safely within their homes. Our designs remove mobility barriers and make the living space more attractive. One of the most rewarding parts of the job is helping individuals stay in their home rather than be moved to a special care facility," stated Ben Ritchie.
Accessible Bath Solutions LLC recently expanded their bathroom remodel services to an extended area of Wisconsin including the counties of Winnebago, Outagamie, Brown, Calumet and Manitowoc and the cities of Appleton, Oshkosh, Manitowoc, Neenah, Menasha, Green Bay, Kaukauna, Kimberly, DePere, among others.
In addition to helping the disabled, Accessible Bath Solutions LLC staff have been trained to meet the needs of people ages 50 and above. They diagnose the obstacles in the home and recommend home accessibility modifications that allow them to live freely and independently.  Ben Ritchie added, "Accessible bath Solutions LLC stands behind its mission statement 100%. Our purpose is to find unique solutions to fit our customer's needs and make everyone we come in contact with feel they can trust us to do the job right."
When someone is faced with limited mobility, the last thing they need is the stress of a home that just isn't adapted to his or her needs. For more information or a free, no-obligation consultation on bathroom remodel options and services, call Accessible Bath Solutions LLC at 920-636-5450 to discover what this CAPS certified company can do for you.