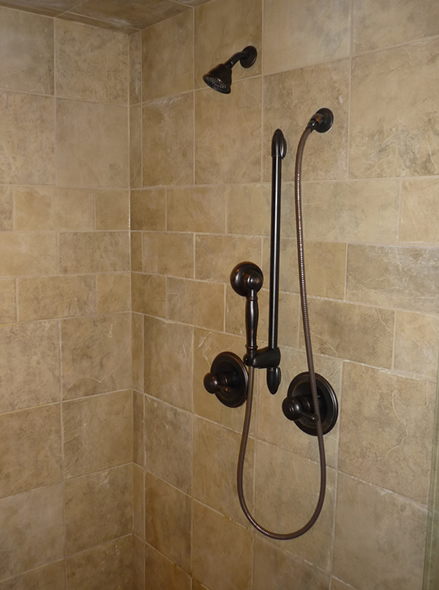 Nearly everyone remembers the commercial about the woman who had fallen in her home and couldn't get up—her plea for help even became the punch line for many jokes soon after the spot aired.
Falls in the home are no laughing matter, however, especially for seniors. One area of the home that is most likely to be the scene of an accident is the bathroom.
At Accessible Bath Solutions, we specialize in accessible Appleton bathroom remodeling and we want to ensure that you never have to suffer from the pain or embarrassment of a bathroom fall. We can't avoid the necessity of bathroom.
We can, however, lessen the likelihood of sustaining an injury in one. Read on to discover what we can do for you.
Who is at risk?
Although anyone can suffer from an injury related to a fall in the bathroom, seniors are particularly at risk. In fact, seniors are injured more than twice as often in bathroom falls than those under age 65, with women being more likely to be injured than men. As we age, our likelihood of experiencing an injury in the bathroom increases. Age is inevitable, but slips and falls in our own homes do not have to be.
What sorts of accidents pose a danger in the bathroom?
Slips and falls are the largest precipitator of accidents in the home bathroom. As many as two-thirds of those injuries are sustained in the tub or shower.  Studies have shown that additional injuries occur on or near the toilet.
When you take into consideration that surfaces in the bathroom are often wet or damp, it's not surprising that this room can set the stage for a variety of slips and falls. Add to that the fact that tubs are often difficult to get in and out of and toilets can be at inconvenient heights, and it becomes obvious that this very necessary room can be a room filled with potential risks.
So what's the solution?
We cannot stop the aging process, but we can change the surroundings that we are aging in. Some people will tell you that moving into assisted living is one way to avoid slips and falls at home, but that means leaving a home you love behind and losing a certain amount of independence. For many, simply remodeling your bathroom can greatly reduce your risks.
Bathroom remodeling isn't just for creating a luxurious, spa-like bath experience—it can also be about creating a safe, non-hazardous home environment that allows you the joy of independent living. A standard bathroom may pose a number of safety hazards for seniors, but a bathroom remodeled by Accessible Bathroom Solutions can lessen or eliminate many of those dangers. You can still enjoy the comforts of your own home, but with a bathroom redesigned with you in mind.
Appleton Bathroom Remodeling: What can Accessible Bath Solutions offer you?

While we are located in Appleton and known for accessible bathroom remodeling, we also serve the counties of Winnebago, Outagamie, Brown, Calumet and Manitowoc. From Green Bay, to Oshkosh, Manitowoc and beyond, we are your home and bath accessibility specialists.
Accessible Bath Solutions boasts a number of home improvement options, including walk-in bathtubs, accessible showers, Safeway Safety Step™ tubs, grab bars, comfort height toilets and re-designed sinks. As you add these options to your bathroom, your risk of injury decreases. Adding these amenities to your home doesn't mean living with a sterile, hospital-like bathroom.
Today's walk-in tubs, for example, offer models that range everywhere from a standard tub to a more luxurious style reminiscent of that of an exclusive spa. Grab bars are offered in a variety of styles, colors and finishes, giving you numerous options to complement your personal taste while offering you safety and peace of mind. You can also choose from numerous sinks and faucets, with faucet choices including single handle, wrist lever and new touch technology selections.
So how do I create this safer, stylish bathroom?
That's easy! Just call 920-636-5450 to arrange for a free in-home estimate.
Although injuries in the bathroom among seniors are higher than for any other age group, you don't have to give up the comforts of your own home to avoid them. Slips and falls do not have to be inevitable. By installing new bath or shower options, adjusting the height of sinks and toilets and adding grab bars, your bathroom sanctuary can be transformed into a safe haven.  Call the experts at Accessible Bath Solutions and discover how an accessible bathroom renovation can benefit you.