It's a fast-growing trend and no secret that more and more seniors are choosing to remain living at home instead of transitioning into an assisted living facility or nursing home. Those seniors who do make this decision often do so as an effort to hold on to their independence and dignity.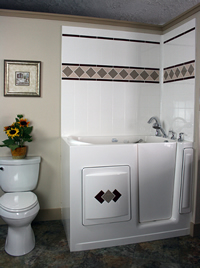 When remodeling a bathroom for the elderly, it is important to make changes that allow them to freely move throughout the bathroom without the risk of slips and falls. In order to achieve this goal, you'll want to look at a variety of options from walk-in bathtubs, to showers, grab bars, lighting and more.
According to The Center for Disease Control and Prevention, about 235,000 people seek medical help due to bathroom-related injuries each year. The most important thing to bear in mind when remodeling a bathroom for the elderly is their safety.
Here are some ideas to consider when remodeling a bathroom specially designed for an aging senior.
1. Bathtub/shower – Walk-in tubs are one of the best bathtubs for seniors, given the many safety features they include. Most walk-in tubs include safety bars/railings, seating, and non-slip floors. All walk-in bathtubs are lower to the ground, which makes entering and exiting the tub a breeze that requires little effort.Make sure to browse different tub options to get the best deal and the most features. Some walk-in tubs may not include other features such as a fixed showerhead, handheld showerhead with adjustable settings, or whirlpool jets (for relaxation). When shopping for a walk-in tub or shower, be sure to consider these features before purchasing the tub.
2. Toilet – Install a senior-friendly toilet, (usually called chair-height toilets) which will give the senior freedom to raise and lower their body weight with minimal effort. A special lift chair is also available to assist in the lifting and lowering of an individual.
3. Non-slip flooring – If you're on a budget, carpeted bath rugs or bath mats with a non-skid feature work wonderfully for preventing slips. Bath mats are less expensive than replacing the flooring which makes them an obvious choice for pennies on the dollar.
4. Height adjustments – Making small adjustments such as lowering the sink or toilet can make a substantial difference in a senior's comfort level within their bathroom. Just remember, if the senior uses a wheelchair, you'll want to make sure to include enough knee clearance so they can comfortably get to and from the sink.
5. Providing extra safety – Install grab bars throughout the bathroom where they are needed most.  Place a handrail next to the toilet, bathtub, or shower. Basically, install grab bars wherever a senior would need additional leverage to pull themselves up. Another interesting feature that could be of great use to a senior is a telephone line or alert system in the bathroom, just in case. Having an available resource to contact people for help, when in need, could prevent serious injuries in the bathroom.
6. Light fixtures – Seniors typically have impaired vision, so replacing the light fixtures will eliminate shadows and unnecessary prevent bumps and bruises. One other great idea for brightening a bathroom is a vanity mirror.
Now that you have some ideas to get started in the bathroom, consider what other options you might need throughout the home such as widened doorways or wheelchair ramps. Although most accidents do occur in the bathroom, you'll want to make home accessibility modifications throughout the rest of the home as well.
Accessible Bath Solutions can assist you with all of your bathroom remodeling or home accessibility needs in Appleton, Green Bay, Oshkosh WI and beyond. Just give us a call at 920-636-5450 for a free consultation when you're ready to discuss your options. We can assist you with anything to make your home more handicap-ready or senior-friendly – no matter how big or small.