With more seniors wanting to remain independent in their homes, walk in bathtubs are increasingly becoming popular.
You've probably seen advertisements on TV or perhaps you've visited a bathroom showroom recently and noticed one or two on display. But what exactly are the benefits of a walk in tub? Let's take a look.
Common Concerns About Walk in Tubs

One of the most common questions is "how can the walk in bathtub door prevent water from leaking?"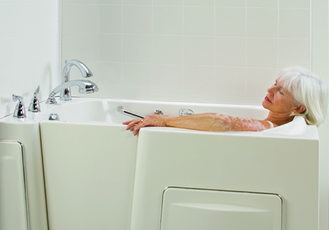 Don't worry, these doors are designed to keep the water in, so you don't need to worry about leaks, although you will have to wait for the water to drain before you can open the door to get out – unless it is an emergency.
Manufacturers have been making these baths for years and people have been using them without water spilling all over the bathroom floor for just as long. The bathtub door was specifically engineered and shaped to have the strongest seal. The shape of a walk in tub is designed for easy access both in and out of the tub.
What Makes Walk in Bathtubs Unique?
Now that you don't have to worry about leaks, what other features are unique to a walk in bathtub? There will generally be a seat molded into the shape of the tub, although depending on the model, you might find a seat that pulls down from the side of the tub.
This feature allows you to sit up in the bath and enjoy the luxury of the water over your shoulders if you wish. If you are used to lying down in the bath, this seat alone can be a real treat.
In the interior of the tub, you'll find a variety of other features that you won't with traditional bathtubs. For example, walk in tubs include attachments that allow you to shower while sitting down and a hand rail to help you get up and down safely. You can also find additional safety features such as dimpled floors to prevent slipping and a belt to help you avoid sliding off the seat.
These baths can be customized to individual customers' taste so they are appropriate to each individual's needs. If mobility is a struggle for you, you'll find that many tubs will have the option of a lift which can help you get in and out of the tub.
Luxury and Function
In addition to these features, you'll also find that walk in bathtubs are rather luxurious. There are typically a range of spa features included in walk in tubs such as bubbles and high speed jets.  You'll also find various attachments to help with the process of bathing.
If you want to really enjoy the luxury of a hot tub in your own bathroom, this is the way to get it. All you need to do is press the right button.
Walk in tubs are safe and practical, but also luxurious. If you care for an elderly person, someone who is mobility impaired, or if you are just thinking of upgrading the bathroom with plans to stay put for a long time, the walk in tub may be the right option for you.
Would you like a personal tour of a walk in bathtub? If you want to get all your questions answered and you're in the Appleton, WI area, visit Accessible Bath Solutions at the Valley Home Builders Association Home Expo March 8th-10th, 2013.
Accessible Bath Solutions specializes in handicapped bathroom remodeling modifications. Some of our Services Include: Handicapped Bathroom Remodeling, Accessible Bathroom Solutions & Installations, Walk in tub Installation, Tub to Shower Conversions in Appleton, Green Bay, Oshkosh and beyond