Considering which home accessibility modifications to make a senior can be challenging because for many people, it's difficult to know where to start. Some seniors require minor safety adjustments around the home due to restricted mobility, while others require more significant remodeling to make the home wheelchair accessible.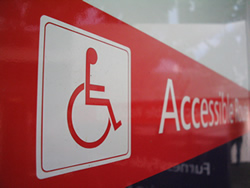 Since most household accidents occur in the tub or shower, bathroom modifications for the elderly are usually a good idea and you'll want to take extra precautions to make this room accessible for the senior, taking into consideration their needs both now and into the future.
For example, let's assume the senior's mobility is limited, but not restricted at the moment. If you are already installing safety features such as grab bars in the bathroom, would it also be a good idea to install a walk in bathtub or roll in shower in anticipation of the senior's needs as they continue to age in place at home?
Bathroom modifications for wheelchairs may be one direction you might consider in preparation for the future.
Let's have a look at the different adjustments or renovations that may be needed to make the senior's home more safe, secure and comfortable.
Bathroom modifications for disabled seniors – According to The Americans with Disabilities Act, public doorways must be at least 34 inches wide. This amount of space will be plenty if your senior needs their home to be wheelchair-accessible. As required by the ADA, you'll want to be sure to replace the door knobs with L-shaped handles.
Wheelchair ramps – At Accessible Bath Solutions, we believe the ramp should take up as little room as possible, and we have some unique solutions available.

Simple adjustments, such as installing grab bars in the bathroom can prevent slips or falls that may occur in the bathroom. The recommended size for grab bars is 34 to 36 inches. Place grab bars in the kitchen, bathroom and bedroom, or as needed.
Considering most household accidents occur in the bathroom, there are many different ways to make the senior's bathroom safe. A few ways to prevent slips or falls is:
Installing a walk-in tub or roll in shower for those with limited mobility.
Install safety grab bars next to the toilet for extra leverage to get up and down.
Add non-slip flooring or floor mats in the bathtub or shower.
Replace your old toilet fixture with a comfort height toilet ranging from 18-19 inches (the height of a standard chair) depending on the model and style.
If a walk-in tub is too costly, another idea for the bathtub is to simply add a shower seat.
If undergoing extensive bathroom remodeling, create a larger bathroom with at least 6 square feet of space. Additional space may be needed for wheelchair-bound seniors.
Shorten the height of the countertops in the kitchen for easier access. Also lower sink countertop in the bathroom. Select new tables for the living room and bedroom that are lower in height, but don't accumulate a lot of space.
Extend storage space if your senior requires additional space for medications, equipment, wheelchairs, or other items they need. Place extra cabinetry in the bathroom. A simple end table with drawers is a great inexpensive option for storage and organization of important things like medications that the senior may need to quickly access throughout the day.
Are you in need of assistance with accessibility modifications for the elderly or disabled? At Accessible Bath Solutions, we specialize in accessible bathroom modifications, but we can also assist with all your home accessibility modifications as well.
Service area: We service all of the Fox Valley area and beyond including Appleton WI, Neenah, Menasha, Oshkosh Green Bay, Manitowoc and all areas in between.
Call us at 920-636-5450 and let us know how we can help.