Fond du Lac Accessible Showers, Bathroom Remodeling and Installation Services
If you're looking for a way to convert your existing bathtub or shower into an accessible walk-in shower that allows you the safety, mobility and independence you desire, Accessible Bath Solutions can help.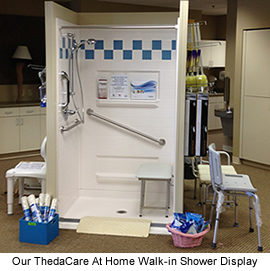 We provide Fond du Lac residents, seniors and disabled individuals, the flexibility and mobility they need to safely remain in their home and maintain their independence.
Our walk-in showers and tubs help prevent slips and falls which could result in life-changing accidents limiting your mobility and preventing you from remaining in your home.
When you consider the cost of assisted living facilities, updating your existing bath space is a smart alternative and wise investment.
Find the Right Accessible Solution to Fit Your Needs
We offer a wide variety of options, including brands such as Best Bath, Sterling™ (a Kohler brand) and more. Each offers its own distinct features and benefits. We're sure to have a product to fit your needs.
Our premium Best Bath showers are ADA compliant and offer a lifetime warranty. In addition, our showers can be converted to adapt to your needs as time goes on, transitioning from a traditional shower to a barrier free shower.
Our Sterling line offers showers dedicated to providing you safety, independence and accessibility in your home. To complete your bath, we also have additional safety and convenience accessories including handheld shower heads, seats and grab bars. Due to the unique wall design of our accessible showers, we are able to add these accessories at any time.
Our Service Area
While we are located in Appleton, we service Fond du Lac and the counties of Winnebago, Outagamie, Brown, Calumet and Manitowoc. If you are outside these areas and looking for a walk in shower, contact us and we will let you know if we can help.
Fond du Lac Walk-in Shower Installation Services
Accessible Bath Solutions is a Certified Aging-in-Place Specialist (CAPS).  We are the experts in meeting the housing needs of the 50+ population, so you don't have to be. We can come to your Fond du Lac home, assess your needs, and provide you with a customized product plan just for you—all at no cost. In addition, we can usually complete your project with a day or two, eliminating the inconvenience of lengthy renovations.
We guarantee 100% customer satisfaction—if you're not happy, we're not happy.
ADA Compliance
Our walk-in showers and tubs are ADA compliant. You'll have peace of mind knowing all our installations meet the standards for size, shower pan clearance, shower chairs, grab bars, hand held showerhead and faucet controls.
Still Have Questions?
Contact us today and learn more about our unique walk-in shower, bathroom remodeling and other accessible product offerings.
To see one of our walk-in showers on display, we invite you to visit ThedaCare at Home located on East College Ave. in Appleton, WI.
Our accessible bath services have been rated 5/5 based on 9 reviews from our clients.
Feb 1, 2015
"Thank you for the excellent job you did. You and your workers were a pleasure to deal with. You were very accommodating and wanted to make sure I was happy.