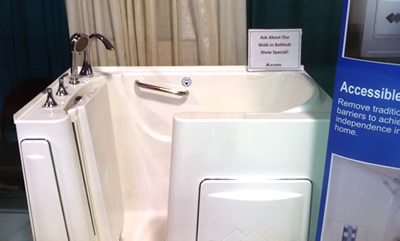 A walk-in tub is a great way to prevent injuries from occurring in the bathroom. Before investing in a walk-in bathtub, you're likely to have some questions. We've put together a list of answers to some of the most commonly asked questions about walk-in bathtubs.
What is the best material for a walk-in bathtub to be made of?
Walk-in bathtubs are typically made of either acrylic or fiberglass. Although acrylic offers reliability, durability, and longevity, at Accessible Bath Solutions, we believe fiberglass is a better value. Since consumers sit down in a tub, the surface does not wear as it would in a shower, and therefore doesn't require the features of higher priced acrylic.
Is it possible to shower in a walk-in bathtub?
Absolutely. With a handheld shower extension mounted to your wall, you can also enjoy the convenience of a shower in your walk-in bathtub. With the simple installation of a shower rod and curtain, you are ready to  go!
How do I choose the right walk-in bathtub for me?
At Accessible Bath Solutions, we specialize in accessibility. Based on your unique set of needs, we'll help you select the right option for you and your budget. Whether you need a walk-in bathtub, walk-in shower, or if you have a tight budget and want to work with your existing tub and go with a tub cut-out, you can call us at 920-636-5450 to discuss your options today.
If you are leaning toward a walk-in bathtub, there are various tubs designed to accommodate different needs. We can help point you in the right direction so you are able to choose the right tub for you, whether you suffer from arthritis, have recently had a knee or hip replacement, or are dealing with a form of paralysis. Let us know exactly what your needs are, and we can help you make a decision.
How long have walk-in bathtubs been in existence?
Walk-in bathtubs have been around for quite some time. The European market has been offering them for some 35 years. In the United States, walk-in bathtubs have been an option for about the last decade. As the baby boomer generation continues to age, the need for these tubs will only increase. The good news is that this increased demand will only mean more tub choices for the consumer as manufacturers compete for the increasing market.
Are walk-in bathtubs hard to maintain?
Not at all. Walk-in tubs require only the normal surface cleaning you already do for your existing tub or shower.
What is the walk-in bathtub installation process?
At Accessible Bath Solutions, we can assist you with product selection and also installation. We often encourage customers who are fairly new to the idea of accessible solutions to view our walk-in shower display at ThedaCare in Appleton, WI or request to see our walk-in bathtub model to become familiar with the products before making a decision.
Once you have selected a product, we will provide you with a free, in home estimate. In most cases, the walk-in bathtub should fit into the space your traditional tub currently sits in. With safety as our priority, we create innovative solutions to fit your needs. As a full service plumbing company, we can remove an old bathtub and replace it with the new tub or shower you've always wanted.
With over 400 models to choose from, we can accommodate any size space in as little as one to two days! Since we are a Certified Aging-in-Place specialist (CAPS), we can also assist you with any other areas of concern within the bathroom or household, such as grab bars, comfort height toilets, door expansions, wheelchair ramps and more.
A walk-in bathtub has a door–how exactly does water stay in the tub?
Walk-in bathtubs have a leak-proof door seal system. When you latch the door, the seal system is compressed. When you set the door locking arm into place, the rubber seal is pressurized. The weight of the water inside the tub helps to further compress the door seal. This makes your tub completely leak-proof, even with a door on your tub.
Accessible Bath Solutions specializes in bathroom modifications including walk-in bathtubs and walk-in showers. As your local experts in the field, we can provide you with walk-in bathtub options that provide you with independence, convenience and freedom of movement. Our professional staff cares about your needs and wants to work with you to make your home—and your bathroom—work for you.
Walk-in bathtubs come with a wide range of options including built-in grab bars for safe maneuvering and balance, designer faucets, handheld shower wands, hydrotherapeutic-jet therapy or whirlpool-jet therapy, anti-scald technology, in-line heaters with either jetting system, auto purge jets, built-in ADA compliant seats, non-slip surfaces and rapid drain systems. Tub controls are designed to be within your reach, and tub surfaces are easy to clean as well as mold and bacteria resistant.
The walk-in bathtubs we recommend are backed by a lifetime warranty on the tub and door seal as well as a 10-year warranty on the pumps. There's no need for you to worry about slipping and falling in your traditional tub any longer. Let us provide you with a safe, relaxed environment for independent bathing. Call Accessible Bath Solutions today for a free in-home estimate at 920-636-5450.