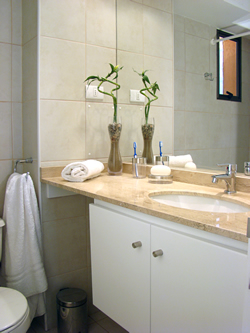 The cost of remodeling a bathroom is entirely up to you; however, with every bathroom remodel, the first place to start is by defining your budget. To better follow the guidelines of your remodeling budget, look at the project as a whole so you don't get too carried away only to find yourself scaling back later on.
An average bathroom renovation cost can be difficult to determine, given the differences in bathroom sizes, requirements, styles and so on.
At Accessible Bath Solutions, we specialize in accessible bathroom remodeling in Appleton, Green Bay, Oshkosh, WI and beyond.
Costs for accessible bathroom remodels are different from a standard bathroom remodel because specialized upgrades are required to improve mobility and reduce the risk of accidents.
In All Bathroom Remodeling Projects, Budget is Universally a Concern
Similar to any bathroom remodeling project, we often find budget to be a primary concern and as a result, we help customers thoroughly understand and plan the project from start to finish so we finish the project on time and on budget.
The cost of adding handicap accessible features into a bathroom can vary depending on whether you're planning to do a major update such as adding a walk in bathtub or simply adding safety features such as grab bars, comfort height toilets or transfer benches to increase mobility and prevent slips and falls.
Before You Begin: Understanding the Average Cost to Remodel a Bathroom

To begin the planning process, break everything down step-by-step, and determine the cost of each update to be sure you're within the boundaries of your overall budget.
Let's go through a general cost comparison of the options in a standard bathroom remodel compared to a handicap bathroom remodel. Since we offer full service plumbing in addition to our accessible services, we can help you with all your bathroom remodeling needs.
What is the Average Cost of Updating a Bathtub?
Standard Bathtub: The cost of a bathtub varies from $250 to $2,500, depending on the style of tub you choose. If you need a simple, basic tub, you can expect that to cost anywhere from $200-$300. However, with the many new products on the market today, most people tend to splurge in this area and lean towards the luxurious spa-like tubs.
Walk in Bathtub: Walk-in bathtubs can significantly vary in price ranging from high-end models with lots of bells and whistles to a basic soaker style bathtub. Prices can range anywhere from $2,500 to $10,000. However, at the higher end of the budget, you're getting much more than a tub with a door. These luxurious walk in tubs include many of the high-end features you'd find in a luxurious spa!
What Does it Cost to Update a Toilet?
Standard Toilet: A basic toilet generally ranges from $150 to $300. If you're leaning towards an energy efficient toilet, you can expect to pay closer to $200 or $400 for this upgraded option. The cost largely depends on style, brand and model of the toilet.
Comfort Height Toilet: Many people don't realize that a standard toilet height is just 15-16 inches. Although we often install Comfort Height Toilets in our accessible bathroom projects, you might want to consider this upgrade no matter what your needs due to the added comfort of an elevated seat.The height of these toilets ranges from 18-19 inches (the height of a standard chair), depending on the model and style.  And if need be, we can go up from there. We can also accommodate special lift chairs to assist in the lifting and lowering of an individual. These toilets can range from $200-$400 on average, again, depending on the style, brand and model you choose.
The Average Costs of Sinks and Faucets
An average oval or square basin will cost around $100.
A new sink faucet costs roughly $75 to $150. The most basic faucet shouldn't cost more than $75. Faucet options include; brass, nickel, chrome, bronze, and stainless steel.
Bathtub faucets typically cost around $100-$125.
Accessible Sinks: In an accessible bathroom, raising or lowering the height of the sink can be very helpful. This type of upgrade would require an upgrade of the bathroom cabinets which is generally a good idea in any bathroom remodel.
Don't Forget to Include Lighting Costs
Don't underestimate the importance of lighting in a bathroom. Lighting can serve as a safety feature or set the tone to a luxurious bathroom. A dimmer switch is a nice feature to accommodate a wide range of needs. Actual lighting fixtures can range from $20 to several hundred dollars depending on the brand and style that suits your needs,
If you're in the Appleton, Green bay or Oshkosh area and you need assistance planning your next bathroom remodeling project, give us a call at 920-636-5450. Whether you want to make your bathroom handicap accessible or you need assistance rearranging the plumbing, Accessible Bath Solutions is here to help.