Our Story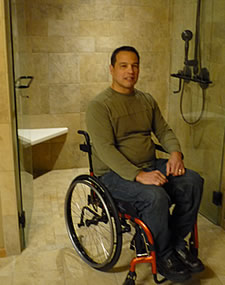 In February 2010, a family friend (Steve) was involved in a tragic snowmobile accident leaving him paralyzed from the chest down and confining him to a wheel chair for the rest of his life.
Modifications to Steve's home were necessary if he was to remain in his own home. His family members and friends who had construction backgrounds got together to make the necessary changes. A ramp was installed for access to the home, doorways were widened, and in the bathroom a roll-in shower along with a roll under countertop at the sink was installed.
All of these modifications provided Steve with independence; allowing him to complete everyday tasks on his own. This is when Accessible Bath Solutions LLC was born.
It was deeply rewarding to help remove barriers and challenges that emerged around someone in their own home so suddenly. Each individual has a separate set of circumstances and we are dedicated to finding unique solutions to those otherwise seemingly impossible challenges.
Mission Statement
Our purpose is to express our creativity to find unique solutions to fit our customer needs, and to make everyone we come in contact with feel they can trust us to do the job right.
Feb 1, 2015
"Thank you for the excellent job you did. You and your workers were a pleasure to deal with. You were very accommodating and wanted to make sure I was happy.
Jan 28, 2015
Very happy with the bathroom shower and service. Especially the extra work we had to have done with our plugged shower and the sink faucets and new washers. Thanks so much.
Our accessible bath services have been rated 5/5 based on 9 reviews from our clients.