Accessible Walk-in Showers, Installation and Oshkosh Bathroom Remodeling

If want to transform your bathroom into a safer, more accessible room in your home, Accessible bath Solutions, a Certified Aging-in-Place Specialist (CAPS), can help.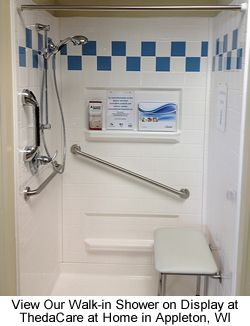 As you age, your needs change. A traditional shower or tub may no longer be the best option.
We service residents throughout Oshkosh and the counties of Winnebago, Outagamie, Brown, Calumet and Manitowoc.
When we enter a home, we develop a custom design plan for each person that accommodates their needs, improves their mobility and heightens their safety in the home.
As more seniors choose to age-in-place rather than enter an assisted living facility, the need for these unique accessible solutions continues to rise.
Our Unique Accessibility Products
Best Bath and Sterling™ (a Kohler brand) are two of the most respected names in the walk-in shower industry today. We carry these brands as well as others, each with their own unique features and benefits.
Best Bath

Best Bath premium showers are ADA compliant and offer a lifetime warranty. They are the perfect age-in-place solution, giving you the option of beginning with a traditional shower and converting to a barrier free shower as your needs change.
Sterling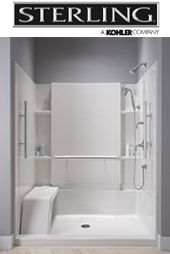 Sterling offers a line of walk-in showers dedicated to providing you with accessibility, safety and independence in your home.
If you need additional safety and convenience features, we can provide you with handheld shower heads, seats and grab bars, to name a few. These can be added to our walk-in showers at any time due to their unique wall design.
Whether you are disabled and looking to improve your mobility throughout the home or you are a senior who wishes to maintain your independence, we're sure to have a solution that's right for you.
View our photo gallery to preview our walk-in shower photos.
Oshkosh Walk-in Shower Installations
We can usually install your new walk-in shower within one to two days, leaving you with very little inconvenience and disruption to your daily life routine.

As Certified Aging-in-Place Specialists (CAPS), we are your accessibility experts. Very often, we act as the guide our customers need when navigating the wide array of options in home mobility products.
If you're thinking about replacing your bathtub and integrating safety features throughout your home, but you're not sure where to start, call us to schedule an appointment and we'll come to your home in Oshkosh and develop a custom design plan that fits your unique set of needs and budget. This is a complementary assessment with absolutely no charge to you.
Our goal is 100% customer satisfaction and we never leave a job until that goal is met.
We Adhere to ADA Compliance
All our walk-in showers and installations are ADA compliant, adhering to the ADA standards for bathroom accessibility and safety in terms of size, shower pan clearance, grab bars, hand-held showerhead and faucet controls.
Still Have Questions?
Contact us today by email or phone at 920-636-5450 with any questions you may have. We're happy to answer all your bathroom remodeling, walk-in shower installation and product offering questions.
We'd also like to invite you to view one of our walk-in showers on display at ThedaCare at Home, located on East College Ave. in Appleton, WI. Let Accessible Bath Solutions make it possible for you to remain comfortably in your home for many years to come.
Our accessible bath services have been rated 5/5 based on 9 reviews from our clients.
Feb 1, 2015
"Thank you for the excellent job you did. You and your workers were a pleasure to deal with. You were very accommodating and wanted to make sure I was happy.